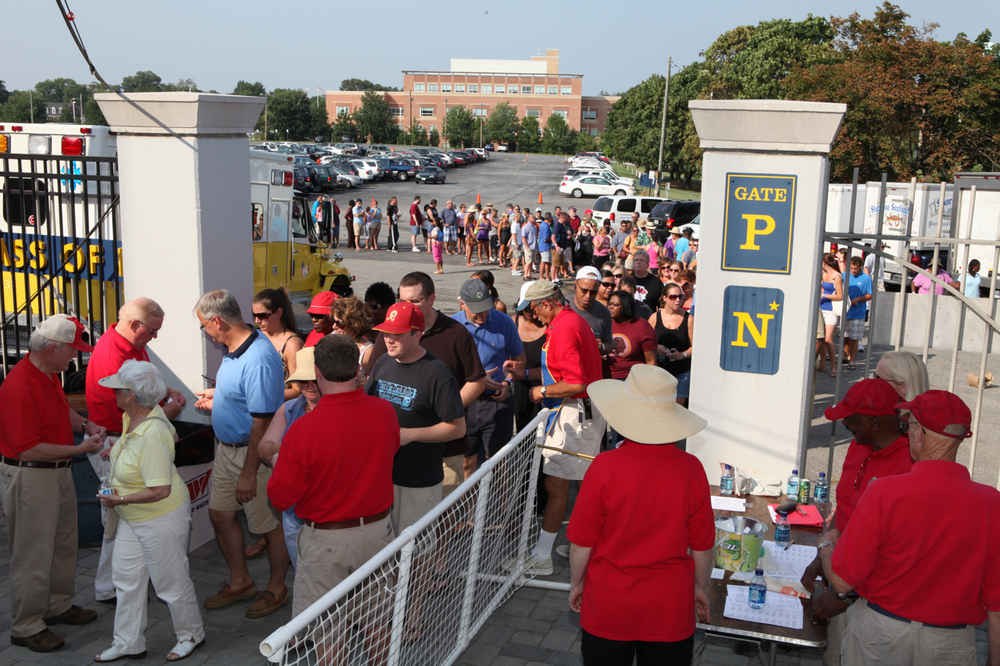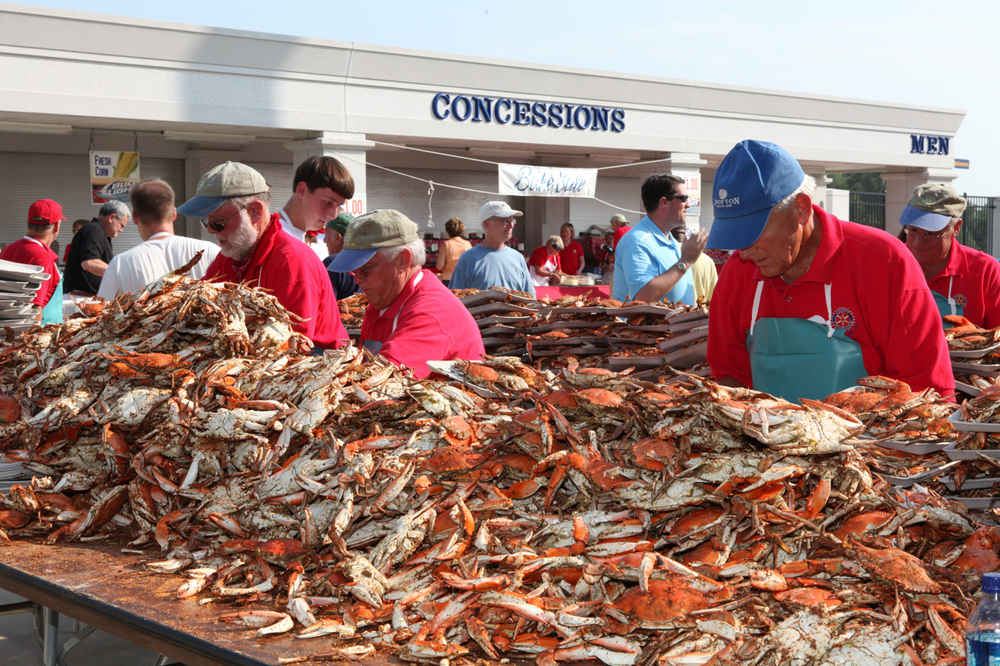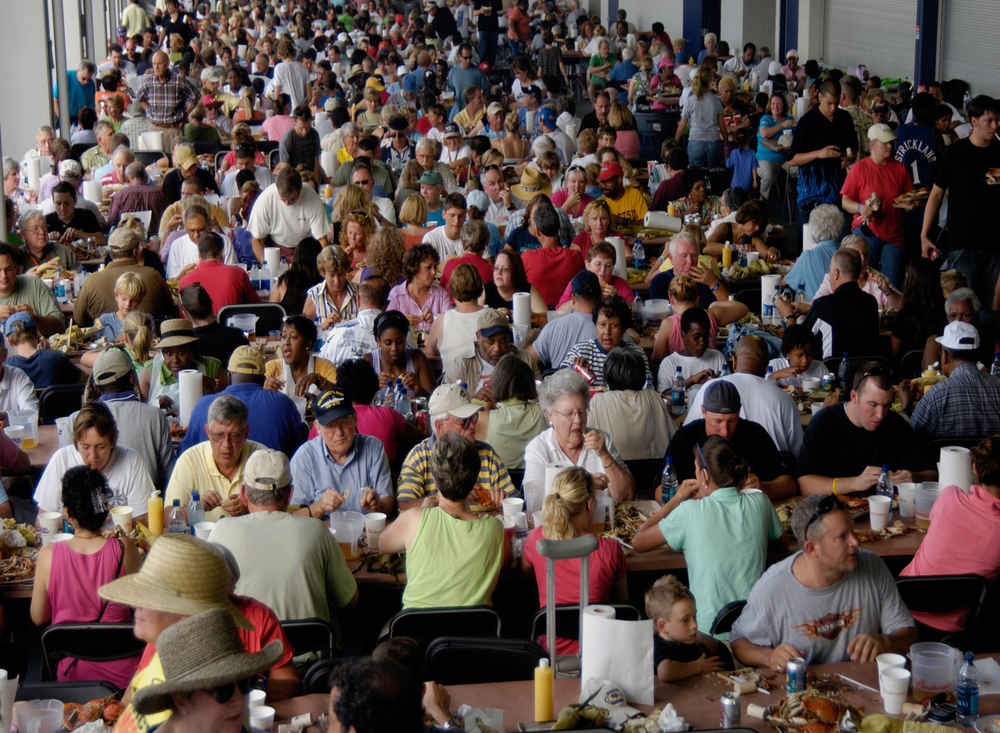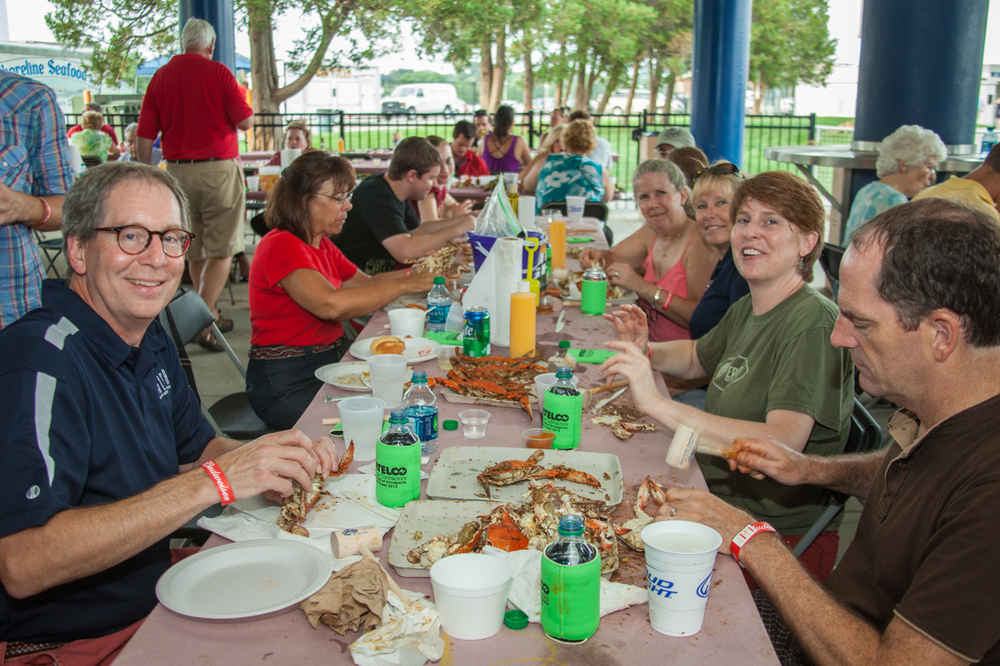 Crab Feast
Crab Feast 2022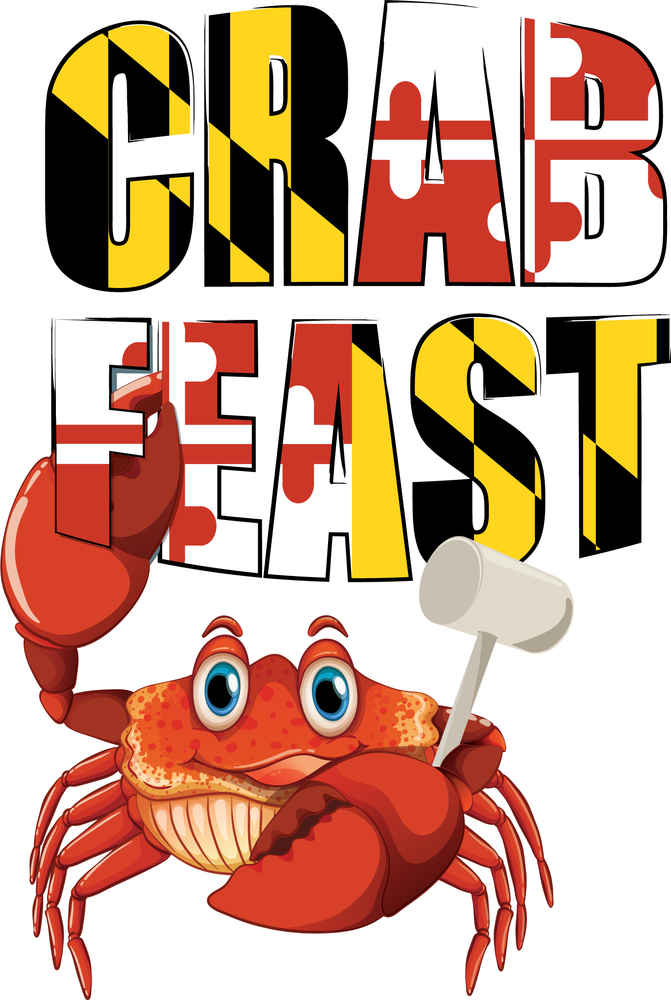 The 77th annual Rotary Club of Annapolis Crab Feast will be held on FRIDAY, August 5th, 2022, 5pm-8pm, at the Navy-Marine Corps Memorial Stadium in Annapolis.
This special event is not only the world's largest crab feast but also a major fund-raiser that benefits local community and cultural organizations.
The feast is all-you-can eat and drink, including large male crabs plus Maryland vegetable crab soup, sweet Maryland corn on the cob, BBQ, draft beer, and assorted sodas and water. A bake sale and cake raffle can finish your feast with sweetness. Also for sale will be Crab Feast T-shirts and other memorabilia.
An excellent way to entertain special clients and guests or to recognize the hard work of loyal employees is in Preferred Dining. Participants can use a private entrance, enjoy guaranteed seating in one of the preferred Dining tents and a wait staff that will bring the crabs to their table. Tables of 10 or 12 are available, as well as individual seating. Contact Lisa Ausherman at ‭301-676-5566‬ (lisa@amazingspacedesign.net), or contact Pam Urnowey at 850-619-1645 (pamela.urnowey@homeinstead.com) for information about Preferred Dining.
Sponsorships are also available, $500, $1,000, $2,500 and a presenting sponsor at $5,000 - for more information. Contact Lisa Ausherman - (lisa@amazingspacedesign.net) or call 240-415-8475
2022 Annapolis 77th Annual ROTARY CRAB FEAST charity event
ONLINE TICKET SALES END at 6PM on Thursday, August 4.
Payment is made through your PayPay account, including the option to use a credit card within PayPal. (Note: a slight surcharge will be added to all online ticket purchases to cover the credit card processing fees. You will see the full price with surcharge on the order page.)
ORDER your Crab Feast Tickets & Raffle Tickets here!!!
** Online event tickets can be picked up at Will Call at the stadium starting at 4pm. Online raffle tickets will be issued in your name and placed in the drawing drum.
Ticket options:
General Admission $90
President's Tent $120 (reserved table seating via a separate gate)
Children (3-12) $25
Preferred Dining - private dining area w/ service at the '53 Pavilion
Table of 12 $2,160
Table of 10 $1,800
Individual $180 (limited quantities)
RAFFLE - $5 per ticket, 5 tickets for $20, 10 tickets for $40
1st Price $1000 2nd Price $500 3rd Price $250 4th Price - One Bushel Crabs
You need not be present to win. All net proceeds of the raffle are donated to local charities.

Crab Feast Ticket Locations
Tickets can also be purchased in person at the following locations after June 1, 2022.
Admiral Cleaners: 10 Taylor Avenue, Annapolis
Bay Ridge Wine & Spirits: 111 Hillsmere Drive, Annapolis
J. Gordon & Co.: 726 2nd Street, Eastport 410-263-0054 - Across from the Maritime Museum
Annapolis Waterfront Hotel: 126 West Street, Annapolis
Long & Foster: 541B Baltimore Annapolis Blvd. Severna Park.
McBride Gallery: 215 Main Street, Annapolis
MAKE A DONATION to the Rotary Crab Feast
Maybe can't attend? Don't eat crabs?! Or you just want to make a donation to support the various charities in our community…
You can Donate here directly with your Credit or Debit Card, or through your PayPal account.
Some fun memories from past Crab Feasts!!
Queen Clawdia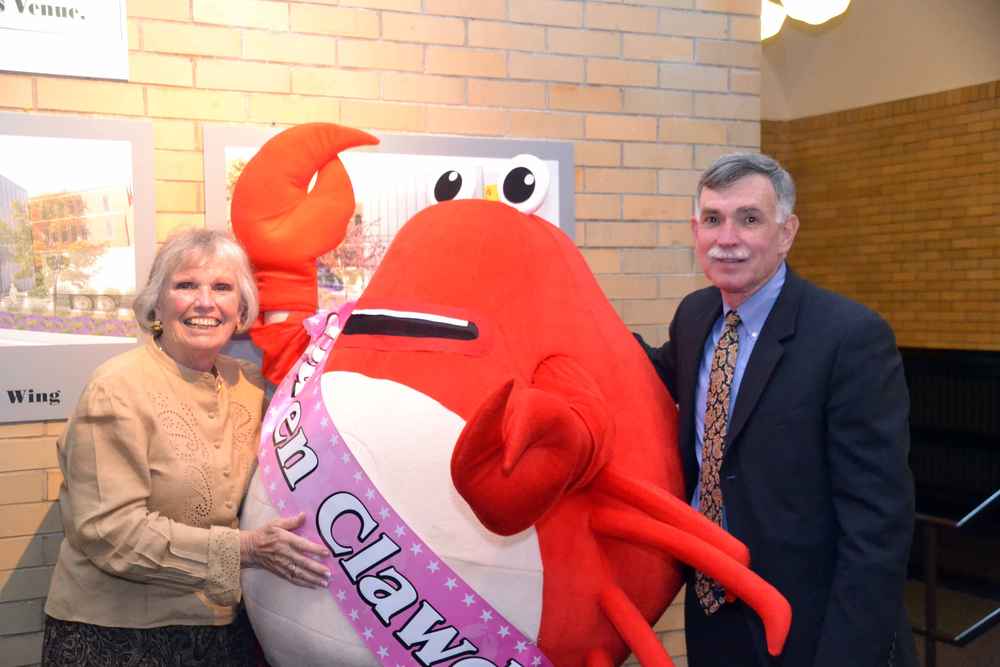 The Rotary of Annapolis Foundation Chairman Mimi Jones, left, and Club President Randy Goff pose with "Queen Clawdia" (alias Sue Weber, Crab Feast Chairperson) in advance of the Club's 71st annual world's largest crab feast which was held Friday, Aug. 5, 2016, at the Navy-Marine Corps Memorial Stadium. Look for Queen Clawdia at our upcoming Crab Feasts!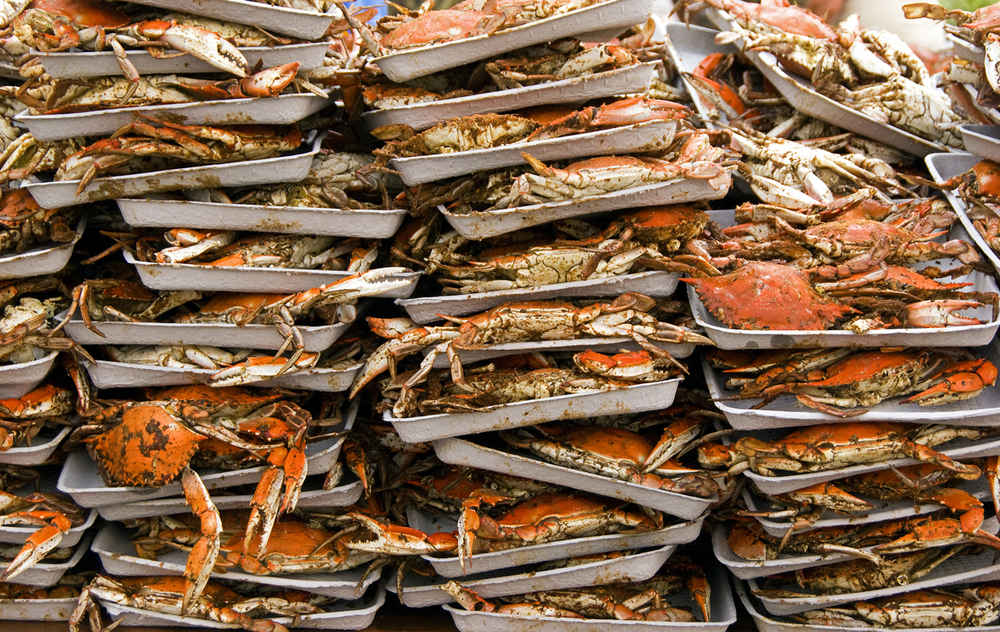 Thank you to all our sponsors for many years of our successful Annual Crab Feasts. We hope to see all of you again at our upcoming Crab Feasts!