Little Free Library
MISSION STATEMENT
Take a book. Keep a book. Share a book.

Building Community, Sparking Creativity, and Inspiring Readers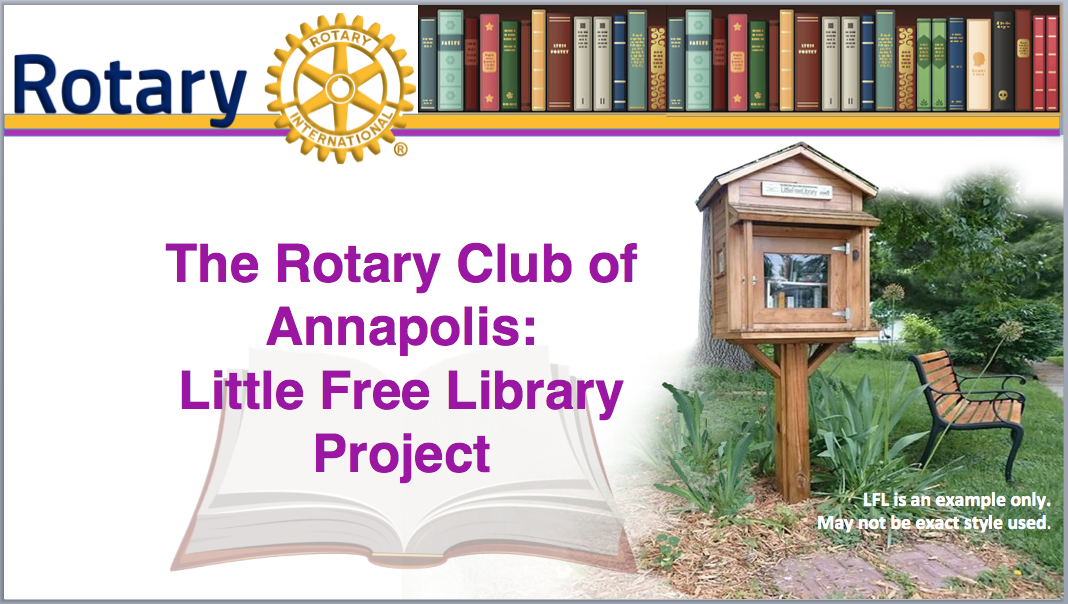 Why
• 1 in 10 Annapolitans live in poverty (20% of Annapolis City Proper below poverty line)
• 40% (of the 1 in 10) are under 18 years of age
• 61% of low-income families have no books at all in their home for children
• 20% of kids in lower-income families don't read books over the summer
• 14% of adults in USA (32 million) can not read
• Book readers have a 20% reduction in risk of mortality
• Adolescent exposure to books is an integral part of social practices that foster long-term cognitive competencies spanning literacy, numeracy and ICT skills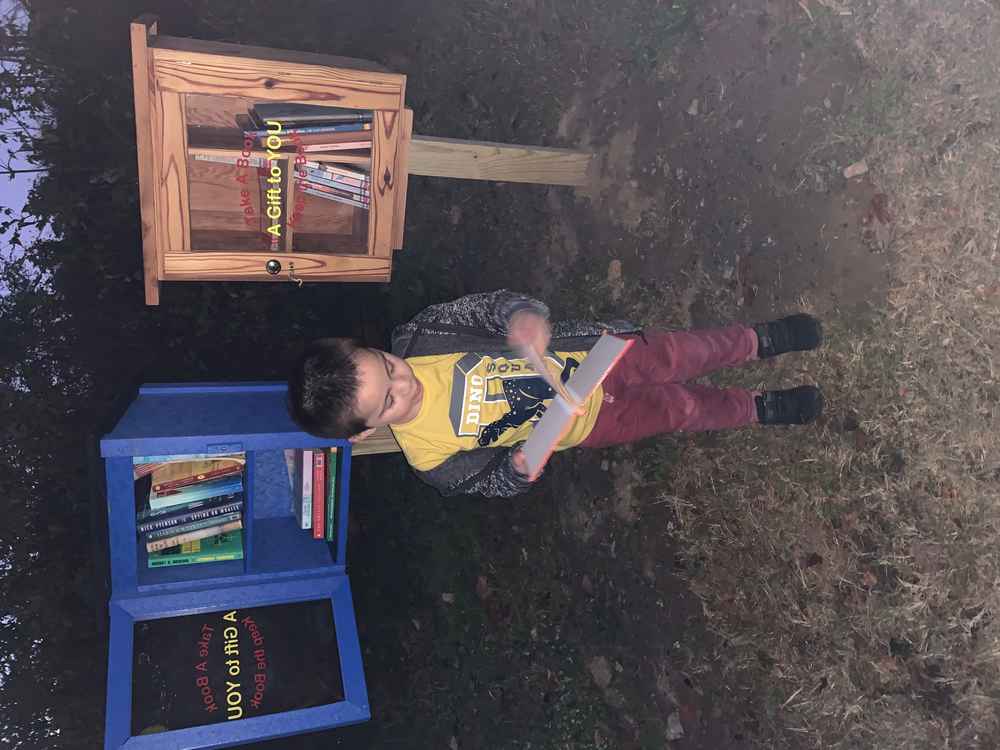 Sustainable Project
• PHASE ONE: City of Annapolis Parks W.E.E. Trail -- 15 locations and 20 boxes (outdoor locations)
• PHASE TWO: City of Annapolis Community Centers-- Goal 10+ LFL (indoor locations)
• PHASE THREE: Expansion into AA County -- and so on...
The Importance of the project (quotes)
"We are committed to bringing the joy and power of reading directly into our communities. -- Over time, the LFL Committee will provide Rotary with useful data-driven reports on the usage of the LFLs in Annapolis."
Dona Rudderow Sturn, LFL Chair
"The LFL project will be a gift in many ways to the Annapolis community. It also presents our club with our first sustainable working relationship with the City of Annapolis. What a wonderful partnership is being forged!"
Rotary Club of Annapolis President, Carletta Allen
"Bringing Little Free Libraries to communities in collaboration with Annapolis Rotary and the City's Department of Recreation and Parks is a great way to advance literacy across all wards of the City."
Mayor Gavin Buckley, City of Annapolis
"The Little Free Libraries (LFL) can bring diverse people together for a common objective of reading — in relation to parks and history — and supports the Mayor's ONE ANNAPOLIS initiative, connecting communities and geographic areas and people; bringing all Anapolitans into the fold. LFL gives access to disadvantaged youth who otherwise would not have access to books."
Archie Trader, Director Parks & Recs City of Annapolis
Please donate to support home libraries and the joy of reading and learning. Thank you!
BOOK DONATIONS ACCEPTED BY OUR PARTNER:
B.I.G. — BOOKS FOR INTERNATIONAL GOODWILL
c/o The Rotary Club of Parole
24/7 Drop-Off Shed
451 Defense Highway, Annapolis, MD 21401
410-757-2785
MAKE A DONATION
Use the "Donate" button BELOW to make a tax-deductible donation to the Rotary of Annapolis Foundation. Please specify in the PayPal or Credit Card field "Add special instructions to the seller:" where you want your donation credited (Little Free Library (LFL)).
Please recognize that your online donation will be net of transaction fees, whereas if you donate by check, it is 100% credited to the indicated cause. The transacation fee will be deducted from our gross donation.
If donating by check, please bring to a regular Rotary meeting or mail to: Rotary Club of Annapolis, PO Box 3175, Annapolis, MD 21403-3175
THE ROTARY CLUB OF ANNAPOLIS LITTLE FREE LIBRARY COMMITTEE
Dona Rudderow Sturn - Chair, Lead Stock Librarian
Carole Brown - Lead Stock Librarian, Librarian, Dedications
Debbie Daugherty - Librarians Coordinator, Librarian, Grants
Margaret Davis - Community Liaison, Librarian, Dedications
Lorie Stout - Books Genres, Lead Stock Librarian, Librarian
Thank you for making this project a reality!